Before making an appointment to visit the EPF office branch or kiosks, you must ensure the KWSP operating hours. Otherwise, you will be disappointed knowing you came at the wrong time. In order to do that, you can simply search it on google, or you might keep reading this article because we are going to show you the quickest way to check the KWSP working hours for entire office branches, counters, kiosks, and third-party kiosks along all the states in Malaysia.
In case you would like to check your EPF number, you do not have to come to the branch office. Instead, you can do it via the i-Akaun portal. Alternatively, you can call CMC by providing your IC number.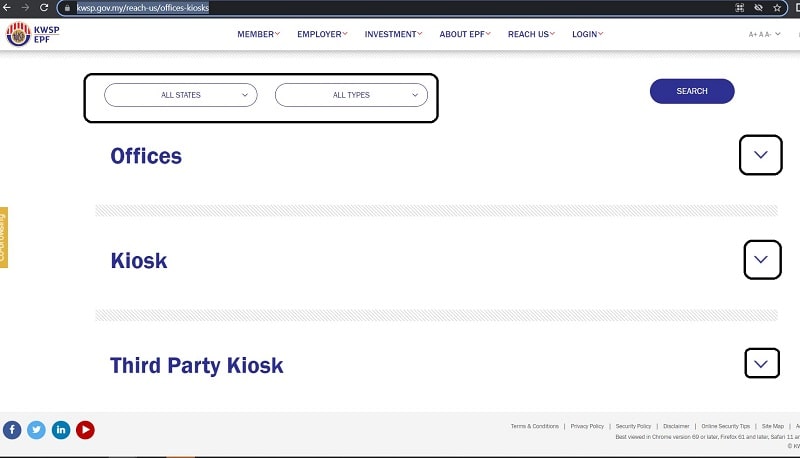 How to Arrange the Visit to EPF Office
So, here is what you should do before visiting and using the EPF service at their offices or kiosks.
1. Find the KWSP operating hours
Follow these steps to check the KWSP working hours:
Visit https://www.kwsp.gov.my/reach-us/offices-kiosks

Detail and KWSP operating hours

Click the dropdown for offices, kiosks, or third-party kiosks
You can also check the facility based on its state or type by sorting it out
Now you can see the KWSP operating hours
2. Set an Appointment Via Janji Temu Online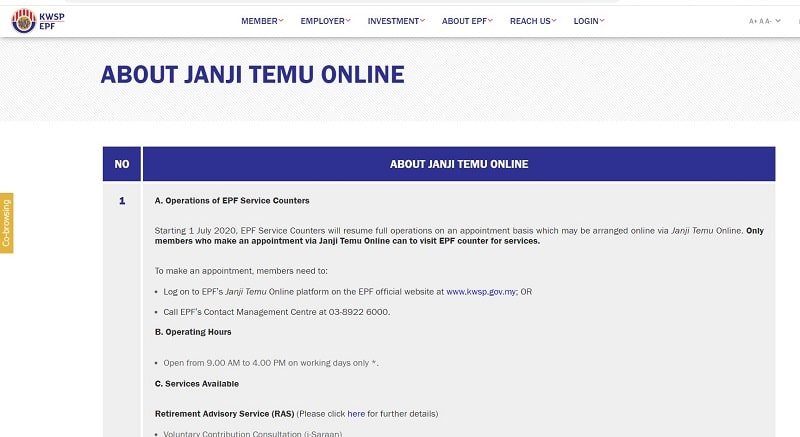 For your information, Janji Temu Online is an EPF member's platform for scheduling appointments where the member can choose a date and time.
Effective from 1st July 2020, you can only visit the EPF Service Counters after making an appointment that may be arranged online via Janji Temu Online. Please note that it is a must for members to set an appointment through Janji Temu Online. Otherwise, you might not be able to use the EPF counter services.
Now, let's try to arrange your departure to the EPF branch offices:
Log in to EPF's Janji Temu Online platform at www.kwsp.gov.my; or call EPF's CMC 03-8922 6000. Please pay attention to the KWSP operating hours

After setting up an appointment, you will receive a confirmation notice via SMS and email. Please check them!

You are advised to present 10 minutes before the meetings. The consultation service is free, so don't worry about it!
You can cancel or reschedule the appointment 2 hours before the meeting. To do that, please access the link you received in the confirmation notification.
If you are unable to attend the booked time slot, the appointment will be canceled automatically, and you have to reapply again via Janji Temu Online.
The detailed information can be found here: https://www.kwsp.gov.my/en/faq-janji-temu